Nemidon Gels are a range of natural marine based gels.
You'll really feel the difference!

The Nemidon product range include:
Black 'n Blue A cool, soothing, natural gel with an invigorating smell.
EZE Massage gel. Ideal for overworked areas.
Footcare & Deodorant A pleasant smelling hydrating gel. Ideal for feet and legs.
Ultra Hydration Formulated to replenish dry skin
Chafe Block Prevents chafing & skin irritation.

To purchase go to our Online Shop. We distribute within Australia only. All prices
include GST but exclude freight. For orders outside Australia please contact us.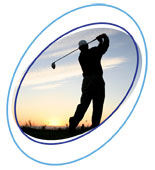 ProGolf Health Endorsement
"For the past 10 years, I have used Nemidon's
Black 'n Blue, EZE and Ultra Hydration Gel
with professional golfers. I find this product
second to none. I use these products everyday
with my professional golfer clients, such as
Graeme McDowell during his victorious
US Open win this year"
Dr Dale Richardson
Director, ProGolf Health
Titleist Performance Institiute Medical Advisory
Board B.App.Sc (Chiro), Grad Dip Sports Chiro,
CCSP